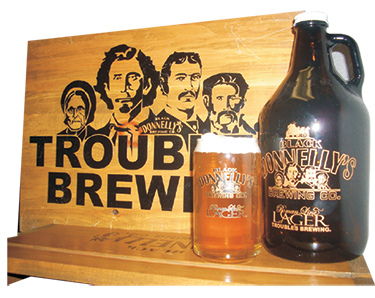 Black Donnelly's Brewing Co.
It's not just a Beer, it's a Story!
Black Donnelly's Brewing Company is an Ontario craft brewery.  Our great craft beer comes with one of the most infamous stories of Canada's early frontier. Our microbrewery produces a crisp, refreshing lager that's perfect for a pint after work, a couple rounds on the patio, or your St. Patty's Day party.
Black Donnelly's takes its name from one of Canada's most controversial families. With seven sons and fighting spirit, the Donnelly family was a force to be reckoned with. Those who crossed them came away bruised and beaten, if they were lucky.
One cold winter night in 1880, their feud boiled over, and a vigilante gang massacred much of the Donnelly family.   The violence was so great, people have continued telling the Black Donnelly story to this day.
Now, our craft beer continues the Donnelly story.
You can find our Roman Line lager in fine establishments across south-western Ontario.  Check out our Find Us page for the location nearest you!